Electronic commerce, commonly known as e-commerce, is a type of industry where the buying and selling of products/services is conducted over the internet and other computer networks. Although India has a significant number of internet users, there are only a few takers for the idea of e-commerce. However, the scenario is changing, and how!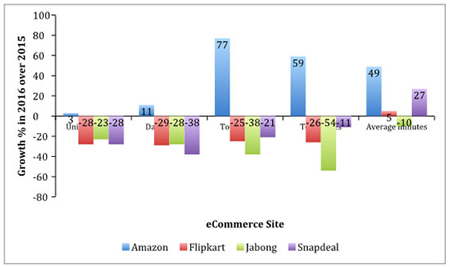 This is only one side of the coin, however. What really makes e-commerce an attractive industry is the fact that only 11 percent of the country's population are online. This means that roughly 110 million Indians are internet users. Out of this number, just 10 (approximately 10 million Indians) have purchased something online.
As one can guess, the e-commerce market in India is just taking its baby steps.While this is certainly good news for the consumer, it could be bad news for traditional brick-and-mortar stores. According to a report by KPMG and IMAI (Internet & Mobile Association of India), e-commerce could force physical retail stores into retirement. If you are skeptical about this possibility, then the next statement should change your mind. India has a huge number of mobile users – approaching 100 crore! By piggybacking on this subscriber base, e-commerce can jump be leaps and bounds. This is what really makes the future bright for e-commerce in India.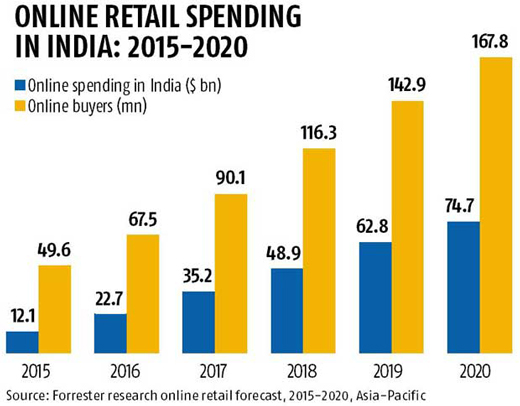 Considering the scope for of e-commerce in India, it isn't surprising to see a deluge of online stores. Some of these shopping sites offer almost everything under the sun. A fine example of such a site is Flipkart, which is undoubtedly the Big Daddy of Indian e-stores. Other shopping sites operate within a niche. For instance – Jabong is a popular site for fashion products like clothes, shoes and bags. On the other hand, Cleartrip is a leading travel site. Thus, people within internet access are a spoilt lot as they have a multitude of options at their fingertips.
Strengthening e-commerce in India
The Indian e-commerce market is not the same as those in developed countries. It is a vastly different market that poses unique challenges. One can argue that the following factors will strengthen e-commerce in India:
Cash-On-Delivery
Increasing internet penetration
Rising incomes
A large number of youth who are open to new technologies
Lack of time for traditional shopping
Wider product/service range
Lower prices vis-à-vis traditional stores
Security
For any e-commerce store to succeed, it must be able to win the customer's trust. This statement is extremely true in the Indian context. After all, the biggest challenge for e-commerce in India is the consumers' perception of online shopping. As unfortunate as it may sound, many Indian consumers view internet shopping with doubt and suspicion.
It has been found that security is the most important factor for the majority of regular online shoppers. In fact, regular online shoppers are more likely to make repeat purchases if they deem that the e-store has implemented adequate security. Hence, security is not just a necessary expense; it is a core business process.
From the onset, you should make it clear to the customer that his/her security is your top concern. You should clarify all relevant issues. For example:
How will you handle order processing?
How will you safeguard customers' confidential data?
Who will have access to customers' data?
How will you make your payment process unbreakable?
Be open. Be transparent. Be sociable. That's the only way you will be able to gain the customer's trust and confidence.
Now, the big question that needs to be answered is – what do you need to get into the sparkling ecommerce business? There are two ways to get into the electronic trade and both have their own pros and cons.
Be a vendor
You can become a vendor with established platforms such as Snapdeal, WholesaleHungama, Tradus or Flipkart. These entities provide a secure digital marketing platform for retailers or vendors to sell their products at a decent revenue sharing model. The advantage of this channel is that you do not have to bother about technology, online payment, shipping hassles and marketing of your products. These platforms invests huge amount of money on technology, manpower, online marketing and have expertise in this trade.
However, the system is not perfect. They have a few drawbacks:
Dependency on third party platform provider
Payment terms and disbursement issues
Direct competition with other vendors
No brand value for your business directly
Own your personal Website
E-commerce requires an investment at the beginning and also a little time to grow. However, it gives excellent returns provided that you have developed a loyal customer base. Businesses, which are confident about their products and have patience, should choose this path. To setup an online business, you will need the following:
A good looking user friendly website
To make a good e-commerce website with all basic features costs between Rs 50,000 and Rs 1,00,000, depending upon the design and need. The future recurring cost for domain and hosting will be Rs 3000-5000 annually, which again depends upon number of products and website visitors.
Credit Card or Net banking Payment gateway setup
In India, there are many payment gateway providers are available like CCavenue, Direcpay, EBS who provides credit card payment as well as NET banking facility. The setup cost is around 30,000 and every bank charges some transaction fee based on turnover.
Back office team
A good back office team is required to maintain the products and content for the website. Online promotion is the key for business growth and a definite strategy is required for online marketing. You can also find a right technology partner and can outsource it completely. Many times, this option is cheaper than setting up your own team as to set up a skilled team is a difficult job in IT sector.
Shipping Channel
Shipping in India is one of the big concerns for eCommerce as product delivery and safety is still a challenge. So, to have a setup with right partner is a must. There are shipping agencies, which also provide service of Cash on Delivery facility, at an additional cost. They also insure your product to recover cost in case of damage.
Online commerce believes in the theory of "World is Flat" that was developed by Thomas L. Friedman. In the era of globalization now, your business has No boundaries , your growth has No limitations and your only destination is the PEAK.