Imagine yourself in a situation where you are in a room full of strangers, where every word uttered from your mouth is reflecting your personality and every action taken is getting you one step closer to your goal. But one thoughtless action can minimize your chances of getting selected for your dream job. Surely, you do not want to do that mistake. So, before you confidently march on for what could be the most important interview of your life. I would like to share Top 8 Job Interview Tips which according to me, will help you to outclass the competition and successfully sell yourself for your dream job.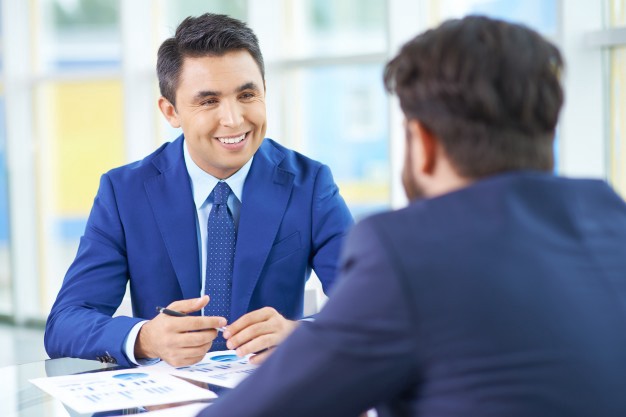 Note: This Article was first published on Medium. http://bit.ly/Top8IinterviewTips
Know your target audience
In the ideal case, prior to applying for the job, you should do a research about the core business of the company. But, if you missed this, it's not too late. You can even do it before you are appearing for the personal interview. It is very important to know about the company, their services or products, clients and the senior members of the team. In the age of LinkedIn, it is not very difficult to know the background of any person. You can always ask the HR about the person who will take the first round of interview. This will help you to avoid the first 30 seconds of discomfort of sitting in front of an unknown person.
Proactive communication with the recruitment team
The recruiter or HR plays an essential role when they are introducing you to the interviewer. If their experience is good for you, they will surely add some positive points and will forward the same to the interviewer. The best way to keep this role happy is proactive communication. Make sure that they have to do minimum follow up with you. On interview day, before you leave for the interview, just drop a message to them and make sure that you are minimum 15 minutes prior to the scheduled time. Your intimation will help the recruiter to be better prepared which will reduce the overall time of the interview. Always acknowledge and reply to emails or calls in a polite way as they are the biggest influencer.
Follow Basic Business Etiquettes and understand the Professional work culture
All the companies generally work on "Client First" policy and hence you might have to wait longer as the top management may be engaged with their clients. This is the best time for you to understand the culture of the company and to get a feel for the place and people. Please make sure that you are sitting straight and your body posture does not project you as a nervous or overconfident person. Do not fidget in your chair, do not cross your legs and do not wring your hands. Keep a good smile when people pass by you. This will create a positive impression of you. You never know if one of those people may be a part of the panel interviewing you. One important thing is that you should be 100% attentive and stress-free to give your best. Try to avoid giving time commitments close to the scheduled interview time. Delays are bound to happen and if you have pre-set commitments very close to your interview time, you will be distracted and unable to give quality output.
Magnify your personality with good non-verbal Communication Skills
As always said, your first impression is your last impression and a warm smile always creates a great impression. Greet the interviewer with a warm smile and a confident handshake. You should always seek permission before getting inside the interview room. This will manifest your disciplined behavior. You should always keep one additional copy of your resume with you in case the HR has not shared your resume with the interviewer. Try to maintain eye contact with the interviewer. This will showcase your confidence and attentiveness. I have seen people stumble when I have just asked them their name. A lot of people say that a business professional is trained to have a serious demeanor in order to be taken seriously, which is actually just a myth. Remember, your smile will give you a positive countenance that will make people feel comfortable around you.
A Clean resume presents a clean personality
To make an impressive resume is an art. I can share many things about a good resume but here I will mention few very important points:
Always write your name and contact details on top of the resume.
Do not copy the objective part from the internet or any other friend's resume. If you cannot think then please skip this.
Give details about your skills in a structured manner along with proficiency level. That will help the interviewer to know the level of questions he should ask.
Never exaggerate your skills or experience. Your friend might have cracked the interview by putting false information, trust me, you will not be able to repeat that.
If you are a fresher, please give information about your academic projects or any other experience you have gained so far, only if you can talk about that.
Trust is a significant factor in any relationship and especially when you are in a professional workplace. At no point, the interviewer should lose trust in you. Share your experience in a reverse chronological order so he can discuss more about your current job and experience which you will be able to present in a better way.
It's better to say NO
Sometimes it is good to know what you don't know. One common problem with today's generation is that no one is ready to accept that they "don't know". Please try to learn to say NO when you actually don't know. Do not make stories which have no base. This will again reduce the trust quotient. Sometimes, the interviewer with stretch that question even more, when he realizes that you are bluffing, which will reduce your chances of getting selected.
Fundamental qualities and skill sets
After recruiting 500+ employees in IT sector, my perception is that there should be three fundamental qualities which every interviewer should look for apart from your technical skills i.e. Attitude, learning capabilities and perseverance. With these qualities in hand, you can always develop technical skills but the reverse is not possible. According to me, there is no such thing as a right or wrong answer (especially in IT interviews), the interviewers are looking for answers that are well thought out with complete understanding in that particular field. An interviewee should know how to demonstrate their skill sets and creativity during the conversation which will increase their chances of getting selected.
Execute your post-game plan 
When the interview process is over, reiterate your interest in that particular position by writing an email and thanking them for considering your candidacy. In case if you are not getting any response from the company, you can always request the HR department for a status update once the prescribed period of time has passed.
Based on my 20+ years of experience in IT industry, one thing is for sure that there is no rewind button to a false start and there is a very thin line of difference between an adequate performer and the one who will level up his chance of getting hired. If people can understand this difference and execute the same during their interview process, they tend to have higher chances of getting hired.